Tammy L. Golden House Restaurant, Mukilteo
Recommendation from Christopher
Kathy V., Edmonds, WA
"I wanted to send a personal thanks for all you did for us after our car accident…. Not only was I pleased with the financial settlement, but your moral support, extensive advice and guidance through an event that totally upset our lives was more than we could have hoped for.
I was slow to catch on about the billings [insurance payments for medical bills] etc., but never hesitated to call your office for help and advice which I received so graciously…. A great big thanks to true professionals."
J. D., Arlington, WA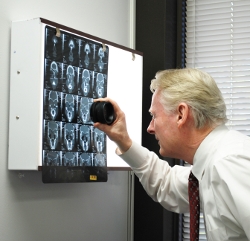 This letter is in reference to the legal representation I received from James Sorrels and his staff during my recovery and claim after being injured in a car accident. Being in pain as well as fearing massive medical bills and having missed work was very scary.
Over the two year process, both James and Bridget made me feel comfortable, always answering my questions. They were patient with me when I wanted to play paralegal and try to help my case. The communication was wonderful and they were quick to answer my calls and e-mails, always keeping me apprised of new information and quick to answer my sometimes strange questions.
They were always professional, having the experience to anticipate problems and guiding me to good doctors and good choices. I especially appreciated that they were sensitive to my financial and family issues and I felt they genuinely cared and walked with me through my injury claim.
I didn't feel like James and has staff were all about getting the bottom dollar – getting a percentage of some financial settlement. The physical and emotional roller coaster was easier to endure with their knowledge and support, as well as a sense that they genuinely cared about me and my needs.
L.T., Puyallup, WA
We switched to James Sorrels when we had problems with our original attorney. James and his staff took our case from a very poor position to one where we feel we were treated fairly by the insurance companies involved in a relatively short time frame. We were kept informed throughout the process with regular phone calls, emails and visits to his office to review our case. James' law knowledge was clearly evident to us, and he took time to explain to us every step. My wife and I could not be happier with our results from James, Bridget, and the entire staff!
J.K., Mountlake Terrace, WA
I have professionally known James Sorrels for about 20 years now….He has been a strong advocate for my rights, going above the norm to gain warranted compensation for my injuries.  He is indeed a man who will explore every avenue until proper justice for the client is obtained. James Sorrels is not only an incredible lawyer, but an exceptional individual.
J. W., Shoreline, WA
James was the perfect lawyer for me. He was incredibly thorough, careful and thoughtfully considered everything related to my case. He took the time to get to know me and kept me informed of developments and what my options were at each step.
He was respectful of the other side and made sure that I was well prepared for the challenges along the way. His staff is fabulous also. I cannot say enough good things about their attention to detail and their professionalism.
Bonnie A., Edmonds, WA
I have nothing but good memories of your professional guidance with my case… I will continue to use your name with confidence for anyone needing legal help with personal injury or insurance issues.
Emma R., Gold Bar, WA
I've never had a lawyer before, but when I got rear ended by a semi truck and my insurance stopped paying for my massages, chiropractor, etc. I was overwhelmed with the paperwork and knew I shouldn't have had to pay for it myself.
I found Jim on Yelp and his team, Lynn and Bridget, were amazing. I got everything taken care of and when anyone hassled me I sicked my lawyers on them. 🙂
I got a lawyer to have somebody stick up for me so I could live my life and that's what they did. If you're in an accident that's not your fault you shouldn't be burdened with anything and be hurting at the same time.
Nichole, A., Edmonds, WA
Dean, Bridget and the secretarial staff went above and beyond in keeping me informed with the happenings of my case.  If it weren't for their dedication to record keeping, and persistence with my medical providers and the insurance company I'd have been lost and believe my recovery was positively affected by their representation.  The Firm and its representatives were also respectful of my wishes in how to pursue the settlement they obtained and made me feel comfortable.
Carlyn G. in Sammamish
I hired Jim after he was recommended by an experienced defense attorney.  I figured what could be a better recommendation!  It turned out to be an excellent recommendation.   I had a good case but there were some real holes that threatened the outcome that I felt I deserved.  I saw that Jim was concerned about this as well but he came up with a way of presenting it so that it actually strengthened my case.   He also counseled me wisely about what points to emphasize and which to avoid.  I wasn't convinced at the time but as the process unfolded I saw that his judgement was excellent.   Another great thing about Jim Sorrels is his tolerance for the feelings that surface as a hearing approaches.  I was very anxious which did not make things easier.  Jim did not take it on but stayed calm and tried to reassure me.  He met with me before the hearing and went over my case.  He had obviously put a lot of thought into the presentation.  He had a large timeline display to make my case more understandable to the arbitrator (and to me).  He video recorded our meeting so I could watch it at home.  At the hearing he was totally "on his feet" and dealt with some challenges from the opposing attorney with insight and humor that drove his points home.  His closing summary put it all together, he was totally prepared.  The arbitrator's decision was completely in my favor and the award exceeded my expectation.   As for Jim's staff, they were terrific all the way through.  They ended up handling issues that I didn't realize would become theirs to handle and they kept information organized and everything straight with the insurance company.  They were such a good resource for me and they were very much appreciated as a process like this can get pretty overwhelming.   Anyone with a personal injury case is in excellent hands with Jim and his staff.  They will do everything possible to help get the best possible outcome. As an added benefit, they were considerate and receptive; I never hesitated to call with any question.
Bill B. in Olympia
Jim handled more than one case for me with great ease, no problem was to difficult for him.Jim &his office staff was friendly & professional they kept me apprised & up to speed on all aspects of my cases.I was more than satisfied with the outcome of all of them. You cant go wrong by using his firm.
As Reviewed on Yelp:
Ed C. in Woodinville, WA
The team at James S Sorrels office are amazing. I was knocked off my bike by a car last year – summer 2015 – Jim was recommended to me. He and Bridget took excellent care of me and guided through the process. We settled in 9 months with no trial and I'm very happy with the outcome. Highly recommended!! -Ed
Brittany K. in Brainbridge Island, WA
Laying face down on the pavement, after being hit by a car in a crosswalk in downtown Seattle, sadly I find my one of my first thoughts is…how will I deal with hospital bills and insurance companies? I find myself in the ER wanting to argue with the doctors for each procedure, fearing the imminent bill racking up with each passing moment. A night passes and I find many missed calls and emails from insurance adjusters trying to coerce statements from me. I honestly was at wits end until a friend referred me to Jim. He and Bridget met with me and helped me to understand the insurance process when you are a pedestrian hit by a vehicle. From the moment I signed to work with them, the adjusters stopped harassing me. They ensured all those dreaded hospital bills were covered and held the right parties accountable. They were able to migrate around the extremely complex situation of multiple car and health insurance companies. They fought for my continued care to strive towards a full recovery. I cannot say enough wonderful things about the integrity, work ethic and truly caring spirit of this firm.
If you find yourself hurt and don't know where to turn give them a call right away, you will not regret it.