Answers to Questions About the Claims Process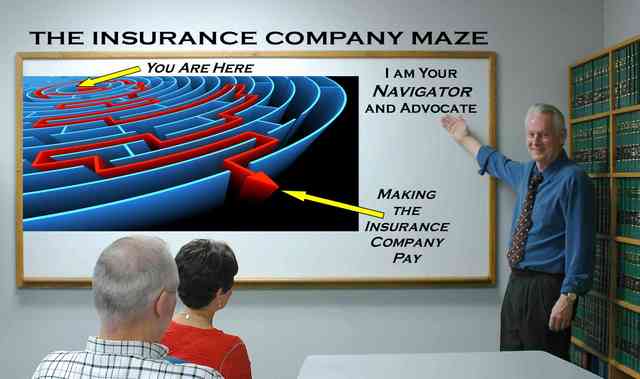 Use these resources to better understand what your options are, what to expect, and the process of finding fair compensation for your injuries. Click on any "+" sign to expand the section.
Insurance Company Tactics
Why do I need to hire a lawyer when the insurance company should cover my expenses?

Many injured individuals, who are involved in an automobile, truck, bus, motorcycle, bicycle, pedestrian, construction, or premises liability accident, are under the assumption that the responsible parties' insurance companies represent the interests of injured people. The belief is that, because the person suffered an injury at the hands of the negligent party's insurance company, the insurance company would be under a legal duty to represent the injured person. However, this is far from being true.

In fact, insurers are only obligated to protect their policyholders' interests, not the interests of injured individuals, who are not their customers. Further, insurance companies are generally focused on their own bottom line, which is to minimize the amount they have to pay to claimants.

Having an experienced personal injury lawyer on your side is essential because insurance companies have many more advantages and resources than injured individuals have in their arsenal. Insurance companies have knowledgeable attorneys who understand the various statutes, regulations, insurance contract rules, and litigation procedures. Insurance companies also have an in-depth understanding of the insurance claims process, can immediately swing into action before an injured person understands what he or she should do, and can easily foresee what the injured person is entitled to based on statutory rules and regulations.

You can even the playing field with the insurance company by consulting with the Law Offices of James S. Sorrels. If you have suffered injuries in an accident due to someone else's negligence, you need to have an experienced lawyer to represent you and your interests.

How does the insurance company view the claims process?

Typically, the at-fault party's insurance company will "handle" your claim, which means that the insurance company has a series of set rules, practices, and procedures to minimize the amount of money the insurer has to pay the injured person for damages incurred. This claims process is so routinized that often when you get a phone call or letter from the insurance company, the insurance company's employee or agent is reciting from a pre-drafted company script. These employees also have certain "goals" they must achieve on behalf of their employer (the insurance company) when handling insurance claims. These goals are again targeted at keeping the amount the insurer pays to claimants at a minimum.

After I was seriously injured I contacted the other party's insurance company. Are there things I should do to protect my claim?

Yes, there are several things you should do to protect your interests after you have been injured due to another party's conduct. Often, injured people assume that their work is done once they contact the other party's insurance company, but this is what the insurance company only wants you to believe.  Insurance companies are hoping that the less you know, the greater the likelihood that months later, if you have to take your case to court against the responsible party, you will be unable to prove your claims due to a lack of proof.

In reality, if you plan on being compensated for damages you suffered, you must be able to establish your case. Unfortunately, many people do not know this and by the time they do realize this, it is too late because the evidence needed to support their case has disappeared or is now too difficult to obtain.

Insurance companies will not tell you what experienced personal injury attorneys already know, which is that injured victims should preserve evidence from the accident immediately, such as taking photos of vehicle damage and holding onto any documents related to receiving medical treatment. This evidence will prove invaluable when it's time to seek reimbursement for your injuries.

What are some common insurance company tactics or procedures that I should be aware of if I am injured in an accident?

From representing and assisting hundreds of individuals injured in automobile accidents, we know the common insurance practices and procedures insurance companies will engage in when handling claims.  The following are some of the insurance company tactics that injured people must avoid if possible:

The Incomplete Interview: Following an accident, an insurance company representative will typically call you for a "recorded interview." However, you might find out later that the first reassuring part of the call was not recorded at all. Often, instead of asking what injuries you suffered, the insurance representative is more concerned about whether you had any previous injuries in the areas where you were injured after your accident.

To protect and preserve your interests, you should ask the insurance company questions, such as whether they will take accurate photos of the cars involved in the accident, what kind of medical care they recommend, and whether they will help you if you lose your job or lose wages. You should keep notes of what is said during the call.

The Unwritten Reassurance: The insurance company agent who calls you might give you the impression that the insurance company is accepting responsibility for the harm done to you, but this reassurance is not legally binding. In fact, if important witnesses who can attest to your account of the facts do not come forward, the insurance company is in a better position to deny your claim. This is why it is important that you obtain the name, addresses, and contact information of any person who was involved in the accident and witnesses who observed the accident.
The Disappearing Evidence: Frequently, the insurance company takes a few photos of your car but does not tell you to take your own photos. By the time your car is totaled or repaired, you may notice that the insurance company's photos are so poor that they do not show the damage to your vehicle, making it difficult for you to prove that your car was in a serious collision. You should also know that the auto body repair shop, which is being paid by the insurance company, is not always instructed to photograph collision damage to your car.
The Mounting Pressure: The insurance company agent who calls you might give you the impression that the company will pay for your medical bills as soon as you send them to the insurance company, but in actuality the bills will be considered for payment as part of a case-closing settlement. Unaware that the insurance company will not pay your medical bills right away, you find out that your doctor is upset for not being paid for the medical services that were provided. Even your own automobile insurance company might tell you it will cover your medical expenses but end up questioning the expenses and denying payment. Worse yet, you may have health insurance but discover that your health insurance policy does not cover all the treatments you need.

Understandably, many people in this situation give up and forego medical treatment altogether, even though they still need to be treated. The major disadvantage of choosing this route is that later on the other party's insurance company might argue that you were not injured at all because you did not obtain medical treatment.

The Total Mismatch: In the end, without an experienced attorney on your side, the insurance company is holding all the cards and you are stuck with the short end of the stick. It is at this point, when you feel that you are at a significant disadvantage, that the insurance company will catch you in your most vulnerable moment and ask you to consider settling the case. Don't let this happen to you. Contact us today for a free consultation.
The Claims Process
Generally, people who are injured due to another person's negligence are entitled to claim reasonable compensation for their injuries from the other party, whose insurance company handles the matter for its customers. Many individuals, however, are unfamiliar with the insurance claims process. This page provides a helpful overview of the claims process for individuals who suffer injuries that result from automobile, trucking, motorcycle, bicycle, bus, pedestrian, construction or premises liability accidents.  Here are some details about the claims process.
What is the first step in the claims process?

In most circumstances, a claim begins with a phone call to the at-fault party's insurance company.  Typically, the insurance company asks the injured person to provide a recorded or written statement and sign a medical records release. However, at the Law Offices of James S. Sorrels we advise injured individuals to not provide these items to the insurance company due to the tactics and policies insurance companies often employ to protect their own interests. For helpful information about insurance company tactics, please read our Insurance Company Tactics section above.

Although, if the injured person has a source of "first-party" insurance, such as automobile personal injury protection, aka "PIP," or health insurance to pay for medical bills or lost wages, it may be acceptable to provide a statement and a medical records release to that insurance company. We still advise you to be careful when you do this though, because your statement and medical information may be used against you later. The best avenue is to avoid signing anything provided by an insurance company until you have consulted an experienced personal injury lawyer first.

For more information on first- and third-party coverages, please see our Insurance Coverage section below.

After the claim is opened, what should I do?

After opening the claim, injured individuals often have many important questions they want answered, such as the following:

What type of medical care should I obtain?
Should I ask my physicians about diagnostic testing?
What is the best way to preserve evidence of the facts regarding my accident, such as witness statements and photographs of vehicle damage?
Should I consult with a personal injury attorney?

At the Law Offices of James S. Sorrels, we believe that people with serious accident injuries should contact an experienced personal injury attorney as soon as possible, because there are several important steps people should take soon after the accident to protect their interests.

What is involved in bringing a claim to its conclusion?

After some time has passed since the accident (which could be a matter of a few weeks to several months or more) if the injured person has completely recovered, the injured person and his or her attorney would collect the medical records and other important records and documentation as proof of the claim and send them to the at-fault party's insurance company. Then, the attorney would prepare a settlement proposal or demand, which includes all medical bills, both past and future; lost wages; impairment of earning capacity; reasonable compensation for pain and suffering, disability, and disfigurement; and other items of special and general damages. This demand would then be sent to the insurance company for review.

What would be the settlement value for my particular claim?

The settlement value for a particular claim is determined on a case-by-case basis and depends on a multitude of factors. Contrary to what many people believe, there is no "blue book value" for personal injury claims and there is no standard multiplier to apply to the total value of medical expenses. An experienced personal injury attorney like James S. Sorrels can best determine the appropriate settlement amount you deserve for your particular claim. An experienced attorney is also in the best position to present your claim in the most persuasive manner possible.

What if I make a claim and do not get a fair settlement offer from the insurance company?

If you are unable to get a fair settlement offer from the insurance company after engaging in negotiations with the company, the next step would be to file a lawsuit against the party who caused the injury, referred to as the "defendant" at this point. If you do plan on filing a lawsuit, you should keep in mind that lawsuits must generally be filed within a statutory length of time, known as the "statute of limitations." If the claim is filed beyond the legal time deadline, then the claim is forever time-barred. The statute of limitations for a specific claim depends on the facts and legal theories that are argued and presented. An experienced personal injury lawyer from the Law Offices of James S. Sorrels can tell you the statute of limitations on any possible claims you are interested in pursuing.

If I file a lawsuit against the party responsible for the accident, what should I expect?

Depending on the identity of the parties involved and the facts regarding the accident, the lawsuit may be filed in one of the state's superior or district courts or in federal court. In general, the defendant's insurance company will hire a lawyer to defend the lawsuit that you filed, and both sides will then engage in "discovery." Discovery is a process by which the parties gather information before the trial, such as obtaining witness testimony, documents and other information that is pertinent to your personal injury case. Many courts also have formal events that must occur prior to trial, such as witness disclosures.

Once I file a lawsuit against the responsible party, does that mean I've lost the opportunity for a settlement?

Even though a lawsuit is filed, this does not mean that you lose your chance to have the case settled. In fact, the chance to settle a case remains high even after the lawsuit is filed. Most personal injury lawsuits – approximately 80 percent or more – are settled before trial.

With the parties' consent, personal injury cases are sometimes settled during meetings or by phone between the parties' lawyers. Other times, cases are settled by mediation, which is a more formal process where a neutral third party, called a mediator, facilitates the process of having the parties reach an agreement. If, however, the parties are still unable to resolve the case by using either of these methods, the parties might agree to use arbitration to resolve the case, which is a process that is more expeditious and less costly than going to trial, but also yields a result that is binding on both parties. At the Law Offices of James S. Sorrels, none of this occurs without our client's express authorization.
Insurance Coverage
Insurance policies are often very confusing and complex. It may be especially confusing you are injured due to another person's negligence in an automobile, truck, bus, motorcycle, bicycle, construction, premises liability or pedestrian accident. This is because in such cases there may be two policies involved that might affect the benefits you ultimately receive: your insurance policy and the policy of the at-fault individual. To help you understand how the various insurance policies operate, this Insurance Coverage page provides an outline of the types of coverage commonly available in personal injury cases.
What is first-party coverage?

First-party coverage refers to the personal coverage that protects the injured party. First-party coverage generally pays for specific items such as medical bills or lost wages. The three most common types of first-party insurance coverage include:

Automobile Personal Injury Protection (PIP) or Medical Payments Coverage
Health Insurance
Workers' Compensation Coverage

What are some common features of first-party coverage?

First-party coverages include automobile PIP (Personal Injury Protection) or medical payments coverage, health insurance, and workers' compensation. They share the following features:

No Proof of Fault Is Required: You do not have to prove that the other person was responsible for your injuries in order to receive the stated benefits
Benefits Are Limited to Your Insurance Policy: Your benefits are limited to the benefits stated in your insurance policy or workers' compensation regulations if you were injured while on the job. In most circumstances, your benefits are limited to payment of all or some of your medical expenses and possibly reimbursement of your lost wages. Under workers' compensation coverage, you might also receive a "permanent partial disability award" if you qualify for this benefit.
Medical Bills or Lost Wages Are Paid as They Accrue: Another critical feature of first-party coverage is that the specified benefits will be paid as your medical bills or lost wages are accrued, which means that you do not need to reach a complete and final settlement of your claims in order to receive these benefits. You would simply have your medical provider bill the proper insurer – under your PIP, health insurance, or workers' compensation coverage, who should then directly pay your providers.

What is thrid-party coverage?

Third-party coverage usually covers all damaged items and covers claims for pain and suffering, disability and disfigurement, and personal distress caused by the accident or the injuries suffered. An important aspect of third-party coverage is that this type of coverage is provided under the at-fault person's insurance policy, instead of your own policy. Therefore, for example, if you are rear-ended in an automobile accident, the other driver's insurance policy will have third-party coverage for your injuries. This means that as the injured person, you are not the "insured" or "policyholder" of the other driver's policy, even though you might be the person who ultimately claims benefits under the policy.

What are some important aspects of third-party coverage that I should know about if I am seriously injured in an accident?

There are important features of third-party coverage that injured accident victims should be aware of, such as the following:

Proof of the Other Party's Negligence Is Required: To collect benefits under the other party's third-party coverage, you have to prove every element of your case, specifically that the other party was negligent, that the negligence caused the damages, and prove the dollar value of your claimed damages. Insurance companies are often skeptical of claims, therefore proof is required to substantiate all claims.
Third-Party Insurance Carriers Have no Contractual Duty to the Injured Person: The third-party insurance company has no contractual duty to represent or protect the interests of the injured person. This means that the third-party insurer has no duty to pay for your medical bills or lost wages as you accrue them.  In most cases, reimbursement of medical expenses will be a part of the final settlement of the entire claim and is often made to the first-party insurer who paid the medical bills.  Although in unusual circumstances third-party insurers may make limited payments before a case is completely settled, they do so on a voluntary basis.
Third-Party Coverage Applies to All Items of Damage That Can Be Legally Awarded: This is an important aspect of third-party coverage because an injured person can obtain compensation from the third-party insurer for all the damages he or she suffered, including medical expenses, lost wages, additional economic losses, pain and suffering, disability and disfigurement, and personal distress.

How does first-party coverage fit in with third-party coverage?

Ideally, a person who is injured in an accident will have the availability of both first- and third-party coverages. For example, if a person is injured in a car accident due to the actions of another driver, the injured person can have his or her PIP (Personal Injury Protection) or health insurance pay for the medical bills as they accrue. Then, ultimately, after the injured person has negotiated with the at-fault driver's insurance company about the damages incurred, the injured person can ideally attain a full and reasonable settlement with the third-party insurer.

The reality is that many complications and difficulties may arise with either or both insurance companies, which is why the Law Offices of James S. Sorrels recommends that you consult an experienced personal lawyer if you have suffered serious or catastrophic accident injuries at the fault of someone else.

For an experienced and knowledgeable personal injury attorney, contact the Law Offices of James S. Sorrels, located in Edmonds, Washington, for more information or to arrange a free consultation.
What is My Case Worth?
I was seriously injured in an accident. Why do I need to hire an attorney to be fully compensated by the insurance company when I already deserve maximum compensation?

The reality is that the system for being compensated for injuries is an adversarial system between the injured individual and the at-fault party's insurance company. Insurance companies are in control of the money they will pay on specific cases and often have the upper hand against an individual who is not represented by an experienced personal injury lawyer. Injured people who want to be fully and fairly compensated "must pay the price of admission into the adversarial system," so to speak, by obtaining an experienced and skilled personal injury lawyer to represent them against the insurance company. In most circumstances, insurance companies will pay the "full value" on settlements if a qualified and experienced lawyer represents the claimant.

Should I be disappointed if the monetary settlement amount I ultimately may receive is not the exact amount I originally asked for?

Injured people feel the pain and problems caused by the injury more acutely and intensely than anyone else, who was not involved in the accident, ever will. For this reason, injured people often seek a monetary sum that would compensate them for all the emotional and physical pain they have experienced since the injury. However, the reality is that the pain and trauma a person experiences after being injured often far exceeds the money that is available to compensate them. Further, the decision-makers, such as the jurors, judges, and arbitrators, who are responsible for the ultimate amount an injured person may recover, are under a duty to be objective and cannot decide on a monetary sum of recovery based on how they would have felt in your situation.

What types of damages can I recover from the at-fault party?

The types of damages you may be able to recover if you suffered a bodily injury and were involved in an automobile, trucking, motorcycle, bus, bicycle, construction, commercial premises, or pedestrian accident are the reasonable value of past and future (1) medical services, (2) lost income or income-earning ability, (3) pain and suffering (mental and physical), (4) disability, and (5) emotional distress.  There are other possible types of recovery, but these are the core types of damage claims. The law also requires the jury to "fairly compensate" the plaintiff (assuming the defendant is found to be liable) for the plaintiff's injuries.

Why is the responsible party not required to pay the plaintiff?

Some injured people are surprised to find out that the justice system does limit the types of recovery injured accident victims can receive from at-fault parties. The following items below are types of cost that the other side – the defendant – cannot be obligated to pay for various reasons:

Punitive Damages: In Washington State there is essentially no such thing as punitive damages, which are damages intended to punish the wrongdoer, because Washington State law prohibits them. The most that wrongdoers have to pay for their conduct is what the plaintiff lost due to the defendant's acts. When the media reports on an extremely high verdict, the verdict is often rendered in a state where punitive damages are permitted.
Plaintiff's Attorney's Fees: Washington State generally follows the "American Rule," subject to certain exceptions, which is essentially that all parties in litigation must bear their own attorney's fees and expenses. This is completely distinguishable from rules in other jurisdictions that allow the party that "wins" to collect attorney's fees from the party that lost.

Additionally, the fact that you have attorney's fees that must be paid at the end of the lawsuit is not a legal "element" of your damages that can be presented to the jury. Thus, plaintiff lawyers hope that the jury will realize that they should account for attorney's fees when and if they are determining the amount to award the plaintiff, since judges and lawyers must remain silent on this issue.

How often do accident injury cases settle?

Most claims are settled between the plaintiff's counsel and the insurance company's adjusters or lawyers without trial.  The Law Offices of James S. Sorrels settles approximately 95 percent of claims, as do other lawyers who are practicing in the same field.

What factors are used in formulating a fair settlement figure in an accident injury case?

At the Law Offices of James S. Sorrels, we take several factors into consideration when determining the appropriate settlement figure to which our injured clients are entitled. These factors include the following:

Circumstances of the Accident: We look at how the accident occurred and the degree of responsibility of all the parties involved, including the defendant and the plaintiff. The reason we look at the plaintiff's possible degree of fault is that the insurance company will have some bargaining leverage if it appears that the plaintiff, in addition to the defendant, was somehow at fault for causing the accident.
Vehicles Involved: We look at the photos and descriptions of the vehicles involved in the accident. If the images of the accident are not that serious, then the insurance company has more bargaining leverage because jurors are affected by what they see. Jurors often wonder how bad the accident is and if they see that the collision did not appear "that bad" they may be less inclined to find in favor of the plaintiff. However, it is scientifically established that minor impacts can cause major injuries and although jurors are told this during trial, some are reluctant to accept this information.
Course of Medical Treatments: A possible bargaining advantage for insurance companies is if the injured person had medical treatments that were minor in duration or amount, or if there were gaps in medical treatment.
No Time Lost From Work: If the injured victim did not lose any significant amount of time from work due to his or her injury or had normal documented activities, then the claim amount may be lowered and the insurance carrier has relatively more leverage than the injured person.
Types of Actual Injuries or Complaints Made to Treating Physicians: If injured individuals suffer primarily "whip-lash" type symptoms, for example, the general population unfortunately views these symptoms skeptically.
Evidence of "Objective Proof" of Injuries: We carefully review the evidence regarding "objective-proof" of the accident victim's injuries, such as x-rays, electrical tests on muscles, state-of-the-art "scans," surgical findings, spasms documented by therapists or doctors, and more. In general, the more proof we have of the injuries sustained, the more bargaining leverage the injured victim has, because the insurance company's lawyer is unable to use the lack of proof of injury against the injured person.
Medical History of Claimant: Many adults often have medical histories that consist of pre-accident complaints.  Ideally, the fewer the number of pre-accident complaints the better for the injured person in terms of negotiating a settlement figure with the insurance company.
Additional Injuries After the Accident: If the injured person incurs additional injuries after the accident, which cause problems as well, the injured person can expect the defendant to "subtract" all of those problems from the host of problems the at-fault party caused, trying to deflect as much of the blame for the injured person's situation as possible.
Other Serious Ilnesses or Conditions: If the injured person has other serious illnesses, conditions, or diseases unconnected to the accident, that impacted the injured person's life before the accident, then the insurance company may argue that the injured person deserves less than what he or she is asking for because the pre-existing illness or condition contributed to the impairment of the injured person's quality of life.
Negative Things That Can Be Said: We also take a hard and honest look at the negative things that can be said about the injured person, particularly the negative things that may be said by people the jury will find trustworthy, such as the injured person's doctors, police officers, employers, and independent witnesses. Additionally, the injured person's records, including medical, employment, income or tax records, may contain negative statements and these statements are important as well.

The medical records, doctors' statements, and other records are carefully reviewed for the following: (a) the patient did not follow instructions, making the situation worse; (b) the patient has other serious physical conditions which have caused serious problems, but the patient insists that the accident is the cause of all problems; (c) the patient's complaints of pain are exaggerated; (d) the patient's report of what happened in the accident is inconsistent or one-sided; (e) the patient denies previous problems of this nature, but the pre-accident records actually show many of the same problems; and (f) the patient seems overly concerned about obtaining compensation from a lawsuit.

Overall, we consider how the evidence will appear in front of a jury or arbitrator and the possible outcomes, such as how will the client "come across" and what will the doctor say. We take a balanced and "hard" approach even on our own clients to avoid serious mistakes from occurring.  We also consider the length of time involved, asking how long it will take to get "from here to there," the costs, and what it is "worth" to the injured victim to have the case behind him or her in order avoid the chance of a negative outcome.

Is there some magic figure that represents the fair settlement value for a case?

There is no single magic number that represents the fair value of a case. The "range" of fair settlement values is determined by a multitude of reasons, such as the following:

Personal Experience: From personally handling cases day in and day out, attorney James S. Sorrels has a keen sense of the core values of a claim and subtracts from that amount based on a variety of factors.
Previous Settlements and Jury Verdicts: Even though there is no scale or schedule to consult to determine a fair settlement figure, we do arrive at a range of figures based on prior settlements and jury verdicts.
Legal Publications: Some legal publications report some settlements that are reached and nearly all jury trial verdicts.
Verdict Reporting Service: We also have a verdict reporting service, which provides brief case descriptions and case results. In addition, many cases are submitted to the court-supervised arbitration program and we have summary reports of arbitration decisions for the past several years.

Our firm is able to provide clients with knowledgeable and fair assessments of settlement values due to the resources named above and due to the extensive experience James Sorrels has in both personal injury law and insurance disputes.

For an experienced and knowledgeable personal injury attorney, contact the Law Offices of James S. Sorrels for a free consultation.
Audio Tips
Find out Why Insurance Companies are Your Absolute Adversary, and What Insurance Companies Won't Tell You.
The Kind of Insurance You Must Buy: What Insurance Sellers Don't Know or Won't Tell their Customers
Things Injured People Must Know in Order to Protect Themselves Against Insurance Companies